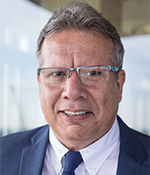 Professional Title:
Associate Teaching Professor & Undergraduate Chair
Education:
International economics
Developemental economics
Bio:
Jesus Sandoval-Hernandez's is an Assistant Teaching Professor (LPSOE) of Economics at the University of California Merced. He earned a PhD in International Economics from the University of California, Santa Cruz. His teaching experience includes Econometrics, Corporate Finance, Introduction to Business and Finance, The Economics of Emerging Markets, Statistical Inference, International Macroeconomics/Finance, Introductory Finance, Economic Development, International Microeconomics, Intermediate Macroeconomics, Latin American Economies, The Economics of Globalization, Economics and Management of Technology and Innovation, Personal Finance, and Introductory courses in Micro and Macroeconomics.